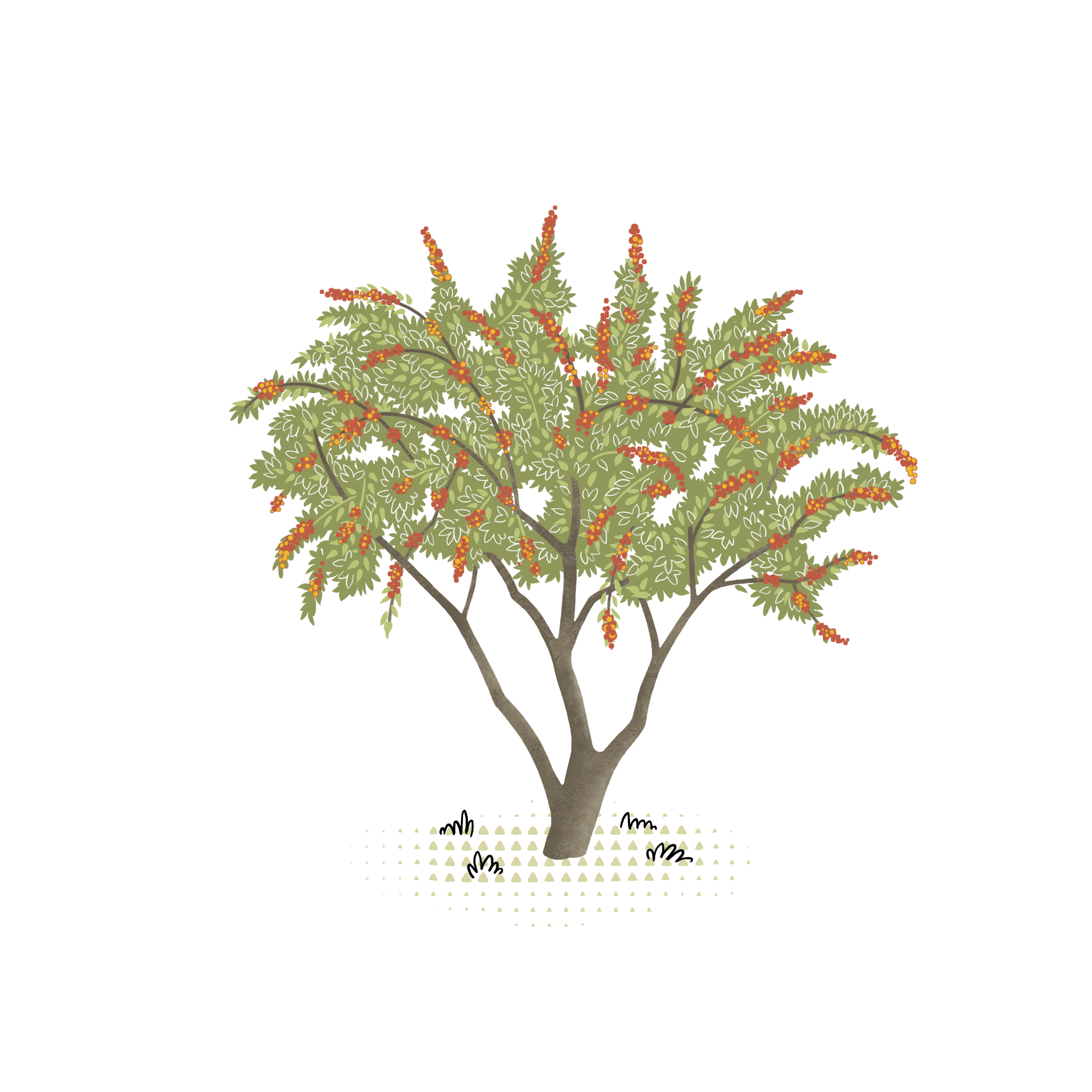 Animal lovers
Lovers of good things
It is an ornamental and fruit plant that symbolizes power and vigor. It grows well in any climate and needs no special care. Its roots tend to accumulate and release nitrogen, so it fertilizes the soil to benefit other nearby plants. Its foliage often grows messy and produces berries that are very rich in vitamin C and essential fatty acids. Dedicated to the messy with a heart of gold!
Scientific name: Elaeagnus umbellata
Common name: Japanese silverberry
It is a member of the Elaeagnaceae family. It occurs as a small sapling or shrub up to 3-4 meters tall. It is a very robust and strong deciduous plant, withstands cold and drought very well and is often used in gardens. It produces creamy white flowers in spring. The autumn fruits, pale red sprinkled with white, cover the bush and are much sought after by birds.
This is a fruit plant that is still little known in Italy, but very interesting: the berries are very rich in vitamin C, are protein and contain a lot of minerals. Its pulp also contains essential fatty acids, such as those in the Omega-3 and Omega-6 series. In spring the leaves, which give the bush a beautiful gray-green hue, see the appearance of small white flowers, grouped in inflorescences, with a long petiole, hermaphrodite and self-fertile, with an excellent fragrance and rich in nectar. The plant gets nice and ready for the bees to visit! In late summer, the small fruits also arrive: very distinctive, globular in shape, covered with tiny white dots, like the leaves. Once harvested, they can be stored for weeks and eaten fresh or used for jams: remember, however, to "pit" them!
The fruits, which are red and rich in vitamin C, can be eaten fresh or used to make jam.
of CO2 captured over a year
Forests where you can grow your own Japanese silverberry, adopting or giving it away.