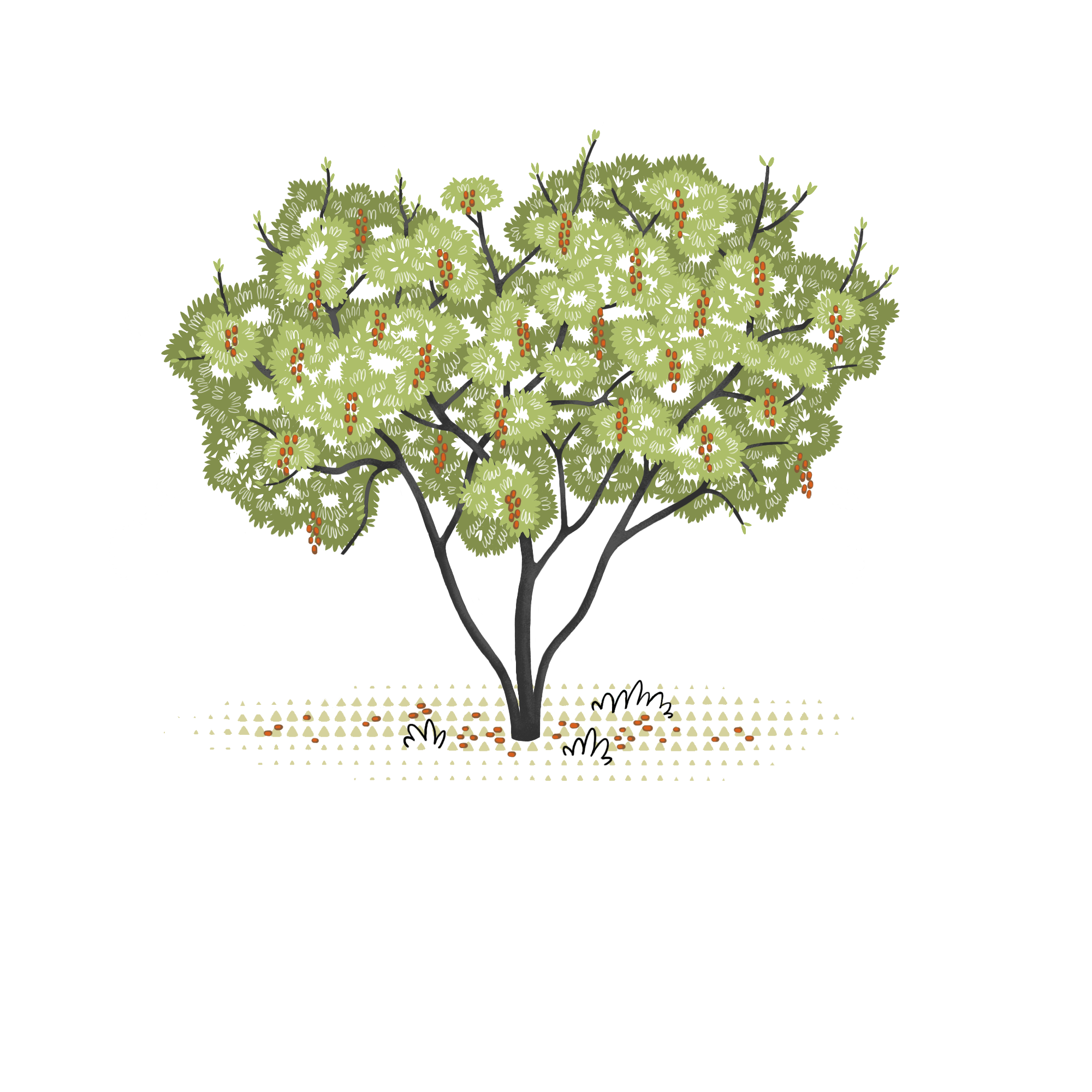 Lovers of good things
Trendiest people
Who wants to say "thank you"
Also known as Chinese Date, it is a long-lived tree characterized by sluggish growth. Specimens allowed to grow freely will even exceed 10 meters in height. The fruits, jujubes, whose flavor is a mixture of date and apple, are about the size of an olive and take on a reddish-brown color when fully ripe. In the Euganean Hills, near Padua, a famous liqueur is produced form this fruit. Dedicated to those who experience great happiness!
Scientific name: Ziziphus jujuba
Common name: Jujuba or Chinese Date.
This is an oriental shrub or small tree belonging to the Ramnaceae. It is a plant with glossy green deciduous leaves, obovate or ovoid in shape with a finely toothed margin. They turn out to be rather leathery, adapted to withstand hot and dry climates. Spring flowering bears small yellowish flowers in groups of about eight. They are hermaphrodite flowers, which yield the famous fruits. Jujubes are in fact globular drupes, about 1.5 cm in diameter, whose shape changes greatly depending on the species grown: round, elongated or even pear-shaped. Inside they contain take on a pointed stone wrapped in whitish flesh, which may be more or less floury in texture and taste similar to apples. When fully ripe, jujubes resemble the sweetish taste of dates. The skin takes on a brownish-red color when fully ripe, and harvesting takes place in the fall months.
In China it is considered among the most important fruit trees. In the gardens of the Mediterranean basin it has been present since the time of Emperor Augustus. In Italy, it was customary for ancient housewives to prepare a syrup or liqueur made from jujubes to offer to guests. Until the 1950s, it was common to make just a few bottles to give as gifts to notables, priests, and factors. In peasant families, the fruit, according to the period of ripeness, was put in pieces in a jar and, by alcoholic infusion, a liqueur juice was obtained, which because of its sweetness is called "Jujube Broth." The term passed into common usage to mean something sweet and good to the point that "sinking into jujube broth" is synonymous with gloating with joy. To the Romans, jujube symbolized silence and for this reason was used to adorn the temples of the goddess Prudence. In Romagna and generally in farmhouses, the jujube plant was planted near the doorway, in the area most exposed to the sun, as it was considered a good luck charm.
Jujube is a well-known homeopathic healing remedy in many different cultures. It comes from the Far East, and in China it has been cultivated for food and used for medicinal purposes for more than 4,000 years. It is also known and grown in other places, such as Morocco, the Middle East, Korea, and India. It is used to make infusions, jams, candies, and even vinegar, all of which are aimed at treating a wide range of conditions, and promoting overall health.
of CO2 captured over a year
Forests where you can grow your own Jujube, adopting or giving it away.