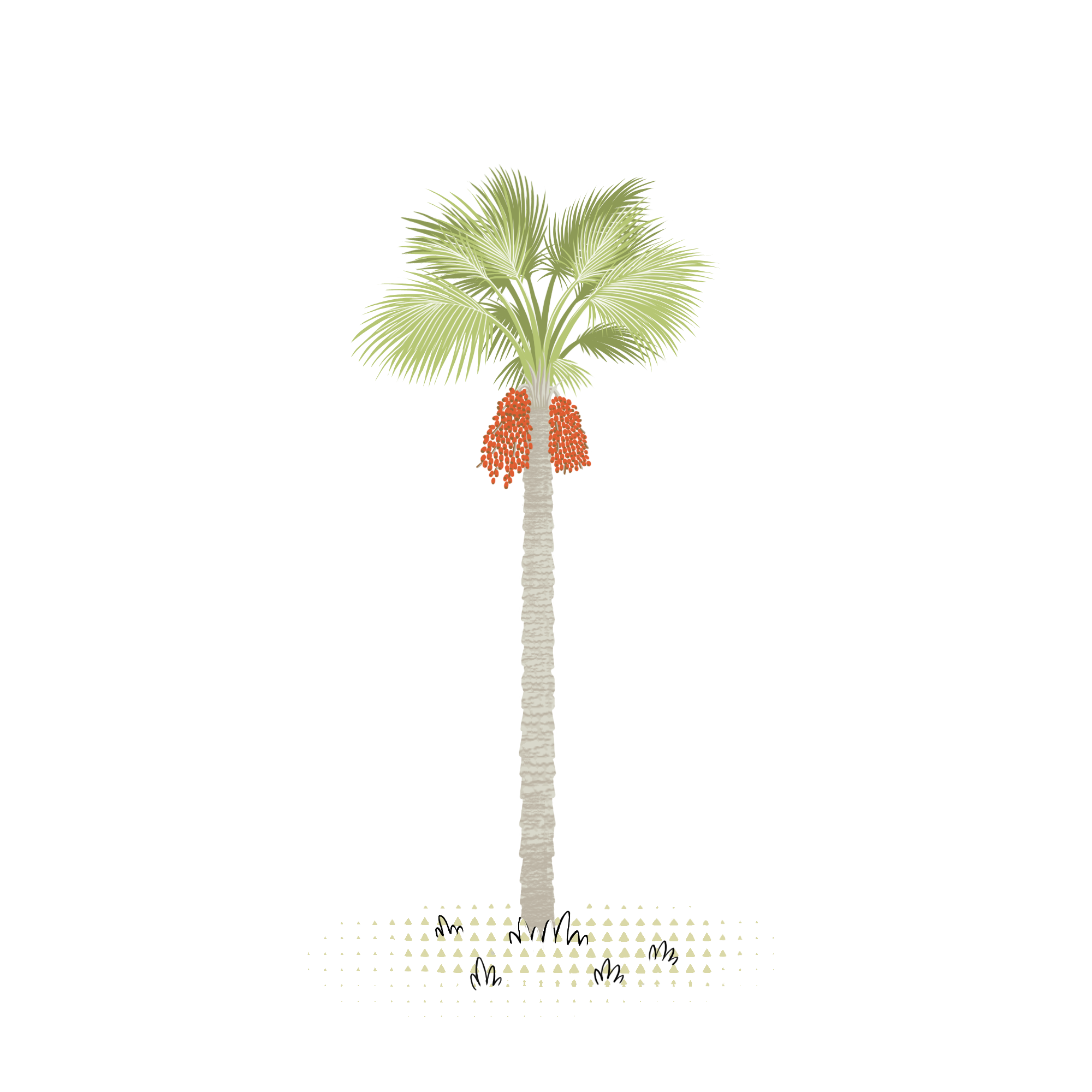 Adventurous people
Animal lovers
Lovers of good things
Buritì, canangucha, mirití, palma real, aguaje, the Moriche palm changes its name depending on the growing area. We encounter it in the wetlands of Latin America. From its trunk hang thousands of red, fleshy fruits. They are so delicious that they make the tree the most sought after by humans and animals in the forest, to the point of earning the title "Tree of Life".
Scientific name: Mauritia flexuosa
Common name: Moriche palm
Belonging to the Arecaceae, the dark-colored stem of the moriche palm flexes 20-35 meters. It is useful for making ropes and baskets owing to the strong fiber that can be pulled out of the trunk. The crown consists of a dozen leaves with a rachis 2.5 m long. The palm produces clusters with more than a thousand dark red fruits, each 5 to 7 cm long and 5 cm in diameter. The fleshy, orange-yellow mesocarp has a bitter taste.
It is one of the flagship trees of Venezuela, but also of some indigenous Peruvian tribes living on the banks of the Orinoco River. According to the legend of the Tamanaco Indians, there was a general flood from which only a man and a woman survived because they followed the advice of Amalivaca, the father of all men of the Caribbean nations. Amalivaca told this couple to take refuge at the top of Mount Tamacú. While they were at the top, they began to throw the fruits of the palm tree on their heads, which turned into new men and women.
Native peoples have always consumed its fruit, the pulp of which is highly nutritious. Aguaje is eaten directly fresh or used to make tasty drinks. Its particular oil can be used alone or in the preparation of nougat-like sweets. In cosmetics, buritì oil keeps the skin toned due to its energizing and emollient properties. It also has effective sun protection, keeping the skin hydrated and supple. Many people use it to protect their hair during the summertime, especially those who have dry and brittle hair. Its preservation is so important for the survival of the economies of the Amazon region!
of CO2 captured over a year
Forests where you can grow your own Moriche palm, adopting or giving it away.