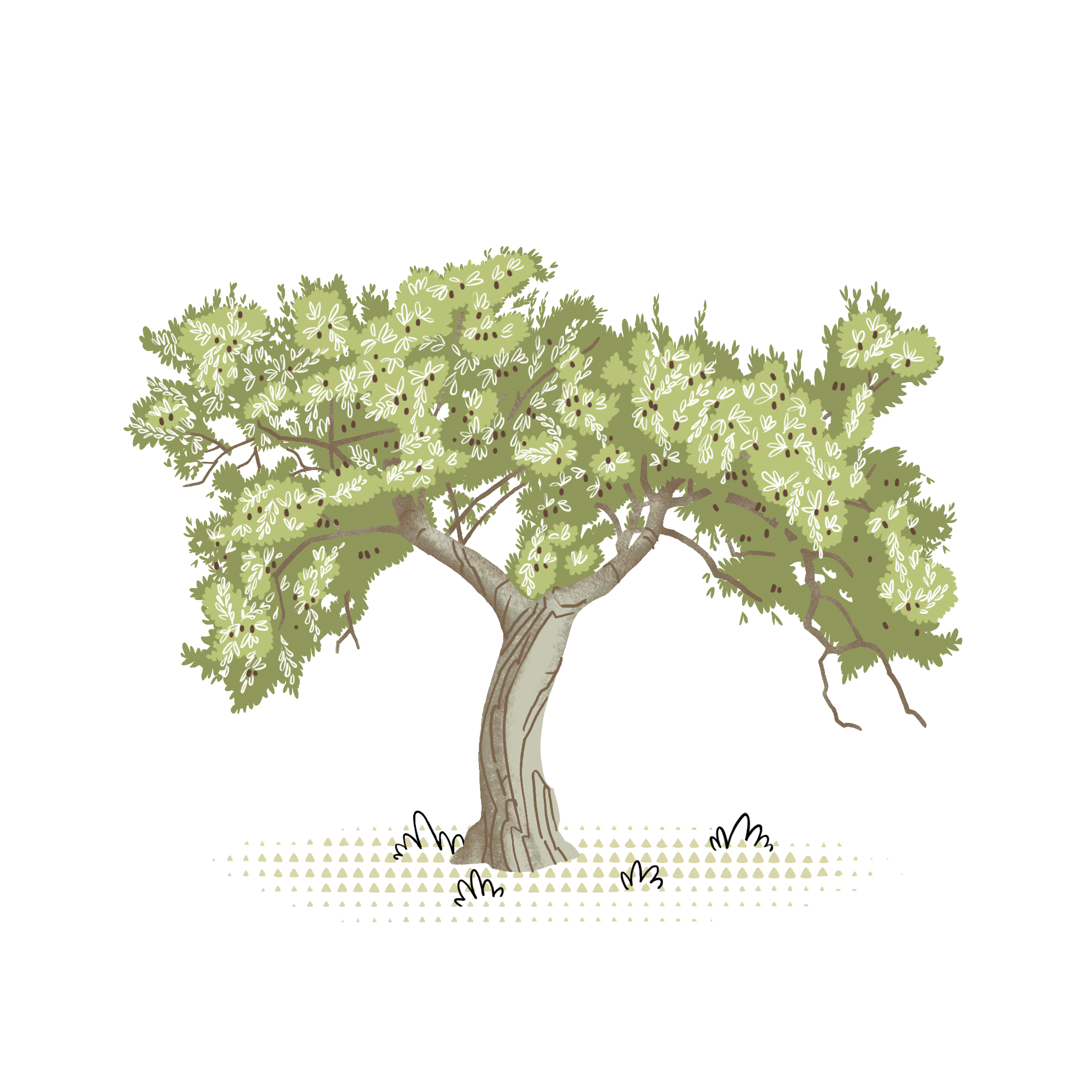 Determined people
Lovers of good things
Athena wanted to give the most beautiful gift to her people. So, she planted a spear and brought forth from the earth the first olive tree. It healed wounds and cured diseases and also offered precious nourishment, giving well-being to those who grew it. The tree grows in the Mediterranean area, reaches its full maturity around 50 years of age and, under optimal climatic conditions, can exceed 1,000 years of age. Suitable for wise and long-lived people!
Scientific name: Olea europaea
Common name: Olive
It is a member of the Oleaceae family. It is an evergreen deciduous tree that can reach 15-20 meters in height. It is found mainly in the Mediterranean basin and is thought to be native to Asia Minor and Syria. It is a very long-lived plant and there are centuries-old ones. The stem is cylindrical and twisted, the bark dark gray and the wood hard and heavy. The fruit consists of a globular drupe with a fleshy pulp and a stone.
Olive is a plant whose beneficial properties have been known since ancient times. Historically it has been considered an important source of health as well as peace, love, forgiveness and prosperity. The virtues of the Olive Tree have come down to us, handed down through history and deepened by scientific knowledge. In ancient times and in the days of the Roman Empire, it was not so unusual to anoint oneself with olive oil before a race or before soaking in the baths. Where the climate became harsher, the Latins used to douse their bodies with oil to resist the bitter cold of the harshest winters. In addition there is evidence among the texts of the Bible that the Olive Tree is considered the symbol of peace and forgiveness as well as Divine Blessing. It is no coincidence that Noah, when he let the dove fly free, it came back with an olive branch in its beak.
Every part of the olive can be used, including bark, leaves and fruits. Fruits can be consumed fresh, preserved, and processed, allowing for both oil and numerous tasty culinary recipes. Olives are harvested between autumn and winter and are used for the extraction of oil, a product that in our country boasts an exceptionally valuable culture. Olives are very useful to our bodies and are of great relief to solve many health problems: they are good for the intestines, skin and hair. Olives and oil-based products are moisturizing, balancing, soothing and emollient. The bark is used to prepare macerates used to treat problems of a psychophysical nature.
of CO2 captured over a year
Forests where you can grow your own Olive, adopting or giving it away.